Recently I uncovered a cardboard box from the attic. What an amazing assortment of electronics goodies from the 1980's in contained! I thought the contents of this box was long-lost after one of my many moves throughout the years.
Eventually, I'll catalog the stuff worthy of note here on this page. For now, we'll begin with some of the IC's discovered among this collection.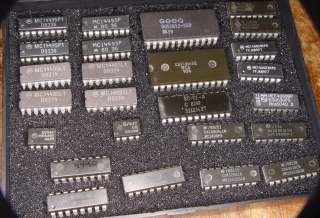 Click on the image to super-size it.
Here's a list of the Good Stuff pictured above:
SEEQ 52B13 Parallel EEPROM

RCA CDP1861 (699kB) NTSC Video Graphics Controller for the CDP1802 (183 MB) RCA's Publication number MPM-201C. I've requested permission from RCA to post this copyrighted manual.

Votrax SC-01A (629kB) Speech Synthesizer!

National LM3909 LED Flasher

National MM5369 (110kB) 60Hz XTAL Oscillator

Motorola MC14495 (4.01MB) Hexadecimal-to-7-Segment LED Decoder/Driver

Motorola MC14490 (118kB) Hex Contact Bounce Eliminator
The other ICs (mostly in the right-most column in the above picture) are more recent ones I added because this box has handy antistatic foam. They are otherwise unworthy of inclusion in this Blast from The Past page.
The good thing about all this? It all actually works! Even the SC-01A! With any luck, I'll post some MP3s of the output of this bizarre IC in the Votrax SC-01 area.
Here's another Blast from The Past: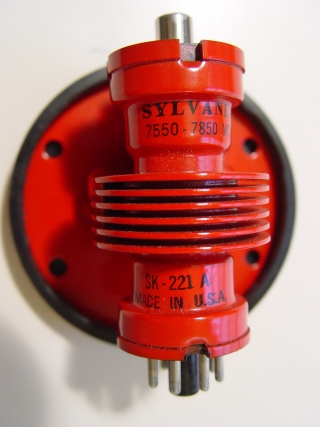 Click on the image to super-size it.
That's a Varian VA-221A (64kB) Reflex Klystron marked as a Sylvania SK-221A. I picked it up at the Shelby, N.C. hamfest for a few bucks. More images of it here (the waveguide port) and here (another overview).